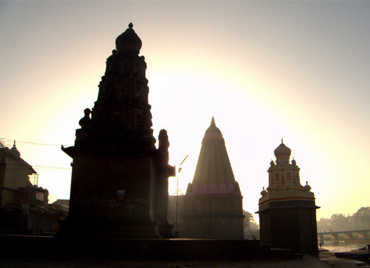 About Wai
Wai is culturally very enriched and has a great historic importance. Pradnya Path Shala and the Marathi encyclopedia, Vishwakosh the two well-known institutions in Maharashtra are based in Wai. Organizations like Prateek theater have been active for many years.

There are 7 ghats on the bank of river Krishna: Gangapuri, Madhi Aali, Ganpati Aali, Dharmapuri, Brahmanshahi, Ramdoh Aali and Bhimkund Aali.

"Krishnabai Utsav" is the main festival in Wai. When Chhatrapati Shivaji Maharaj went to meet Afzal khan near Wai in 1659, according to a legend, one Shende Shāstri from Wai prayed to the Krishna river for Shivaji's victory. Therefore the river Krishna was personified as Goddess Krishnabai, and the tradition of celebrating the festival of river was involved. Krishnabai Utsawa is celebrated on each ghat for 4 to 8 days. (The same festival is also celebrated in the nearby town of Karad).

Wai has recently been a notable film-shooting location. Films like Omkara, Mrutyudand, Swades, Gangajal and Dabangg are shot in Wai and the nearby villages.

Bhajani Bharud Mandal of Shelarwadi is famous for various historical as well as various drama. Wai, located at the banks of Krishna River, is a pristine city nearby Panchgani. Wai is blessed with imposing Seven Ghats known as Gangapuri, Madhi Aali, Ganpati Aali, Dharmapuri, Brahmanshahi, Ramdoh and Bhimkund.

An ancient fort named Pandavgadh is a nearby attraction and is renowned among the trekkers. The hilly terrains approaching the fort poses medium to tough challenges to the adventurous tourists

Considering the number and architecture, Wai could be called as 'a Town Of Temple'. Temples built in the "Hemadpanti" style of architecture, including the following three, are located in and around Wai. (Use of huge stone slabs is the major characteristic of Hemādpanti architecture)

There are 4 temples Chakreshwar, Chimneshwar, Kaunteshwar /Harihareshwar and Kaleshwar near Brahmanshahi ghat. Near Brhmanshahi there are Vitthal and Ganpati temples. Ramdoh ghat has Rameshwar temple, Ramkund and Chilavali Devi temple. On Gangapuri ghat there is Lord Shiva, Dwarka, Bahiroba, Datta Temple. On Ganpati Aali that there are Ganpati temple. In Dharma Puri there are Lord Vishnu temple & Mahalaxmi temple. Dholya Ganpati temple is one of the primetemples in Maharashtra. The idol of Lord Ganesh is very big (as its' name suggests) and is situated on the beautiful ghats of river Krishna.